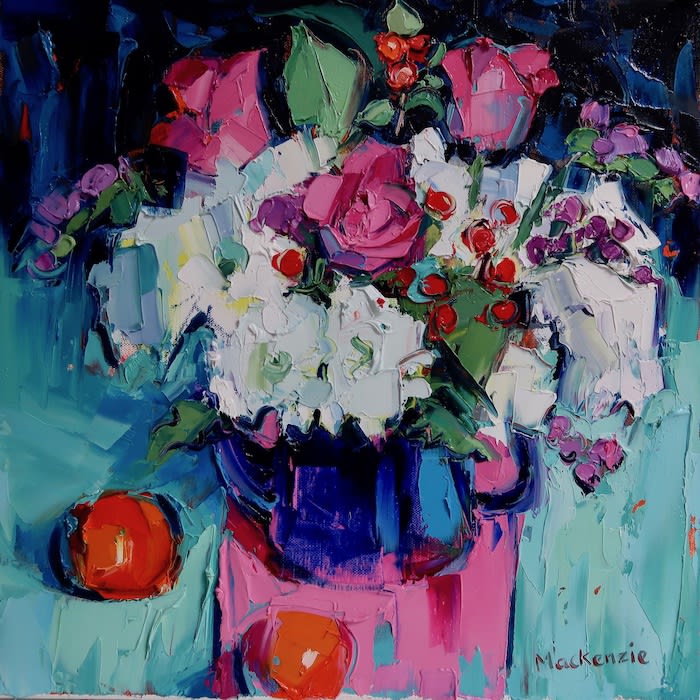 Back in March 2019 we hosted a solo exhibition of Jennifer Mackenzie's work. We caught up with her in her Golspie studio in January of that year where we talked about her work.
Q: What do you love most about being an artist?
A: Being able to do what I most enjoy as my job.
Q: How would you describe your painting style and technique?
A: Spontaneous and painterly. I use a palette knife, rags, fingers and occasionally a brush!
Q: Where do you get your inspiration from?
A: Many things! Things I've collected or fallen heir to that I have in the studio, flowers in the sense that they provide life to my paintings, and representations of paintings by other artists who inspire me.
Q: How do you begin your paintings? Or does this vary each time?
A: Like many other painters, I generally apply a base of colour from which to work. I look at the complementary colours I see within the colours in front of me and use these opposite colours as a base, often but not always.
Q: Are there any little tips or tricks you've learned over the years, that would help or inspire budding artists?
A: A mirror! It's an old trick but look at your art work in reverse and you'll see in an instant what's not working.
Q: How do you create the perfect atmosphere / environment for painting?
A: I'm not an early starter and I find that I gently work myself into the day so that afternoons are most productive. I'm listening to Radio 3 and 4 a lot just now in the studio, but it varies.
Q: Tell us about your work space - what is it like, and what do you like about it?
A: My studio is an old outhouse at the back of our cottage in Golspie, Sutherland. It was formerly a dairy we think. I love being able to look out onto the garden and Ben Bhraggie in all weathers.
Q: What do you personally find the most challenging thing about being an artist?
A: Cold winter days out in the studio can be a challenge!
Q: What's the highlight of your career so far, or your proudest moment?
A: Like most artists I suspect, I'm just looking towards that next painting being better than the last.
Q: Who is your favourite artist, and why?
A: Among many, Anne Redpath for the way she used colour and her interpretation of flowers, Joan Eardley for her expressive use of paint, and David Donaldson for his command of paint, particularly in portraiture.
Q: What is your favourite piece in your collection for your solo exhibition at Gallery Heinzel, and why?
A: Too difficult to say. I enjoyed painting them all!