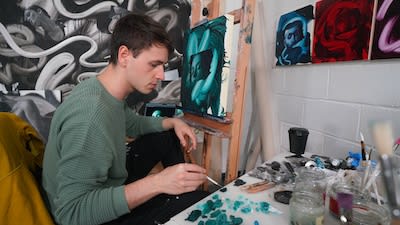 Still only 24, Calum Stevenson is one of the most sought-after artists in figurative painting today. As winner of SkyArts Portrait Artist of the Year, his journey from recent graduate to internationally recognised artist was watched by millions. The ensuing success led to a waiting list for commissions that could take a decade to fulfil and the prestige of a Scottish National Portrait Gallery commission. His lyrical rendition of violinist Nicola Benedetti, the former child prodigy and now established cultural celebrity, has secured Calum a reputation for technical brilliance and observational wizardry. Yet, as the market for his distinctive brand of painterly precision continues to grow, there is a sense that despite the rush of early success Calum refuses to let expectations define him. Reluctant to riff off an established format, Calum Stevenson is challenging both himself and his audience.
Looking at the strength of this Gallery Heinzel show, it would be easy to forget that Calum completed his Masters in 2020 and that he is still what the art world terms 'an emerging artist'. The confidence and probing imagination of his compositions belies the fact that this is an artist in the early stages of his career, that means, finding a voice and determining his way. Combining a digital creative process with dark pictorial playfulness, his work walks a taut line between the controlled and the feral, between what is factual and what is felt. It is clear with this exhibition, Synthesis, that in inhabiting this liminal space, Calum Stevenson is a rare talent, and that the art scene has found a painter brave enough to go his own way.
"I feel others have had an easier time of it after winning SkyArts Portrait Artist Of the Year. For me it has taken a long time to settle back into any kind of painting. What I'm showing with this new body of work is the journey that I have been on, finding out what I enjoy in painting and what I am going to do next."
An Evolving Style
Synthesis charts a journey. It begins with the kind of graphic realism that Calum Stevenson is known for and ends in monochromatic canvases that fuse abstract marks with abbreviated parts of the human form. The earliest canvases almost didn't make the cut for this show, the artist being happy for them to 'exist somewhere in some form, maybe just on my website', but after careful consideration they became a necessary inclusion. As Calum says "I'm sure they embody how I was feeling as I approached this exhibition. For me they are a necessary starting point that show how I began with a portraiture driven narrative and how I tried to play around with the figure. How I explored this kind of revolving, wheel shape within the compositions, to the part where I ended up really enjoying just playing around with the paint, just painting for painting's sake." Far from hiding this evolution, Synthesis thrives on the relationship between these chapters and has become largely about laying bare this artistic transition.
The show starts in autobiographical territory. "Self Portrait in Green" showcases the kind of technical brilliance that can raise an artist's profile and wow TV judges. The likeness is breathtaking and the execution controlled, graphic, almost painfully perfect. If there is a timidity in the pose, there is certainly no holding back on painterly confidence as the artist carves away at skin tone and form, moulding facets of muscles, clothing and gaze. A cool palette separates out into flat strokes of pale blues, greens and pink, whilst the overall effect is of a sensitive individual, daring to peek out from behind protective hands. The artist figure hovers between dark shadow and harsh spotlight, between watching and being watched, as if caught between anonymity and recognition perhaps, unsure of the artifice of the lens. It is in paintings like this that Calum shows what portraiture does at its best, that it tells the most confidential of stories. He demonstrates that observation is not solely about rendering what is outside but rather about capturing what is felt, within. This painting is at once both sensitive and smart, it is also resolutely contemporary.
It was whilst studying for his undergraduate degree at Duncan of Jordanstone in Dundee that Calum discovered a digital creative process suited to his vision. He cites Justin Mortimer as a major influence on his output and liked the way that he uses digital photography and found imagery to inform his painting. It is clear from "Flux I" and "Flux II" that digitally rendering his subjects, and playing with colour and tonal value, is something that comes naturally to Calum now. By inverting tonal information colours become intensely unexpected. The resolved paintings seem to hover between two worlds. On the one hand there is a strong element of control and planning which speaks to pixels as much as brushstrokes. On the other hand figures interlock and tumble in dynamic compositions reminiscent of classical painting, only without mythology and dressed in denim, not robes. These works would seem to nod as much towards stills from video installation as the tradition of oil and canvas.
"I'm envious of artists who can surrender control, who become a tool for the paint, as I just don't have that. I've got this fixation every time I'm painting faces that I just can't seem to get away from, these realistic depictions of people. But this body of work has enabled me to become more of a vehicle for the paint, to work with a greater freedom."
Improvised Painting
Prior to Synthesis Calum worked mostly from found imagery and asked friends and family to sit for him. However, for the new work he has collaborated with dancers for the first time and incorporated both his own abstract compositions and the work of Classical painters like Rubens into an improvised process. The result is a more organic statement and a definite departure for an artist who confesses to needing control.
A fusion of powerful gestural mark-making interwoven with precise figurative elements seems to focus as much on magnified movement as it does on the bodies involved in the choreography. It was an untested process and indicates an artist willing to take risks. He says: "Everything about working like this was new to me. It took me a while to work out the technical process, like which oil primer to use and how different primers would react differently. You've got to understand that the abstract strokes are as much about removing and creating space for the figure as they are about adding marks. You are scraping back a lot on a regular canvas, if you don't get it right you are going to end up with this grey mess. The process of finding all of these different technical aspects before I could even get to the point of putting figures in there took time."
What about directing the dancers and taking on their interpretation? "I was definitely out of my comfort zone. These exercises evolved where we would look at my paintings and look at these images of other artists and the dancers would respond to them and interpret it in their own fashion, with maybe a touch of some light directing on my part. I played around gathering references, just photographing and observing. It opened the work up to chance and serendipity and I think it has achieved really natural organic paintings. It is a bit like removing the hand, I haven't entirely removed the hand, but I've left it more up to chance really, like a reaction, a reaction to the tools in your hand and the flow of the paint."
With movement as much the subject of these paintings as the dancers' bodies themselves, Calum's mastery of colour and location took a back seat. "It was a revelatory process" he says, "the act of painting becomes the clothing, the gesture and the subject, like a great big melting pot which in a visual sense, I think, really works. They are kind of a fusion for me, which is why the title of this show is Synthesis. It was the best name for the combination of all these different elements."
In the final stages of SkyArts Portrait Artist of the Year, artists are given time in their studio to showcase their talent and produce a painting of their own choosing. Calum produced a portrait that also appears in the Gallery Heinzel show, but which remains part of a private collection. It is an image that he maintains comes close to truly satisfying him as an artist - a rare thing for many painters. It is a tender, intimate portrait of his partner Kelsey at once both sleeping and awake, and it was seen by 1.5 million people on TV and had a brush with celebrity in its own right. Showing this work is a fitting way to bridge the experience between the rollercoaster ride of television popularity and the next stage of an artist establishing a long-term professional career. In many respects it captures the quintessential goal of a practicing artist; to produce work that satisfies the self but which also gives the market what it wants. It is important to Calum to have this painting seen and going forward there is a sense that Calum may well be able to realise that difficult ambition of fulfilling both consumer and maker. At the very least he is an exceptional artist that will continue to try. "I'm one of those artists that just thinks just give me another shot at doing that, I'm going to make something better, I just need one more shot. I'm always asking where can I go with it? How can it be more ambitious? So this show yes, it is a self-portrait in a way, but once again, it feels just like the beginning."