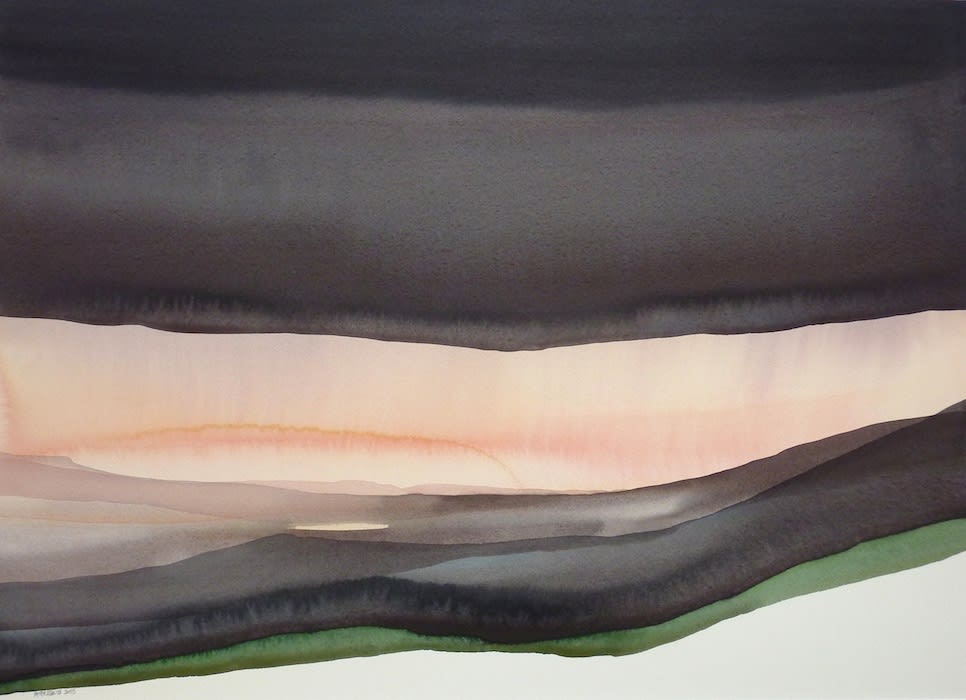 Have you always known that you wanted to be an artist
In 1969 I was taken as a sixteen year old to an exhibition at the Laing Art Gallery in Newcastle of the work of Claude Lorrain. The impact those paintings had on me is as strong today as it was then, particularly with regard to landscape painting. The sense of balance, proportion and use of natural colour and light made me want to physically be in those paintings. The next best thing was to go out and paint landscapes.
You paint almost exclusively in watercolour, a notoriously difficult medium. Why is that?
I've now lived in the Northern Isles, both Orkney, and Shetland where I'm now based, for over 36 years. In that time I've developed my painting to suit both myself and my surroundings focussing overwhelmingly on watercolour. I consider it the most natural of all the painting mediums and well suited to re-presenting landscape.
In the early 1980's when I began exploring the medium I was less interested in simple depictions of landscape and more on pictorial structure and sense of balance that I saw in Claude's concept of the Sublime. And of course the other artist highly influenced by Claude was Turner. Putting those two gods together has formed the background to my work since.
Although abstracted, your paintings retain a definite sense of place. How do your landscapes achieve that?
I have no wish to simply record what I see. I do not seek sedate topographies often associated with the term 'watercolour landscapes'. Instead I prefer the uncertain balance between abstraction and reality. I want my paintings to be a distillation of the landscape in which the subject itself is so often watery. In the Northern isles it's the sea and lochs as well as the weather that draws me.
But equally so it is the geology, which brings me to pigment. Mostly what is left on the paper after a wash has dried and the water has evaporated are tiny fragments of earthy pigment, oxides in many cases, which accumulate in the textured hollows. Indeed the finished physical results of a painting are often a microcosm of the natural world on which they are based.
You've been painting many years. How has your work evolved during that time?
My approach to painting in watercolour has changed over the last three decades,developing in many ways. Although I still find 'pure' watercolour the most interesting and most challenging, I have also employed bodycolour, spray bottles, scrubbing brushes, sandpaper, pipettes, airbrush and a number of different techniques including snow, ice, raw pigment, and also chalk which not only adds highlights to the texture of the paper, but also an element of movement over a dried wash. I begin as always with the idea of the stretched white paper surface as part of the painting and then add coloured washes accordingly.
What is the starting point for a painting?
In most cases I have a basic plan for the finished piece but the medium often has other ideas. I like the unpredictable quality of watercolour and sometimes you just need to 'go with the flow'. Allowing one wash to dry before laying another, I build up an image that requires, above all, patience. I do love watching paint dry.
I'm not a 'plein air' painter; my way of working requires a certain control over situations and for me the weather in Shetland is often just too unpredictable for that. I record my experiences outside through drawing then go indoors to the studio and work. And being a control freak I need everything to hand.
There are many variables at work in watercolour painting. Amount and type of pigment, quantity and quality of water, size of brush, surface of paper, area of wash, etc.. These all affect the finished painting. The stretched paper is often at different angles, washes pool, flow, or simply run off. There are also many chance elements, loads of happy accidents and good intentions, plenty of disasters, but eventually there's a painting I'm happy with.
Peter Davis
April 2018