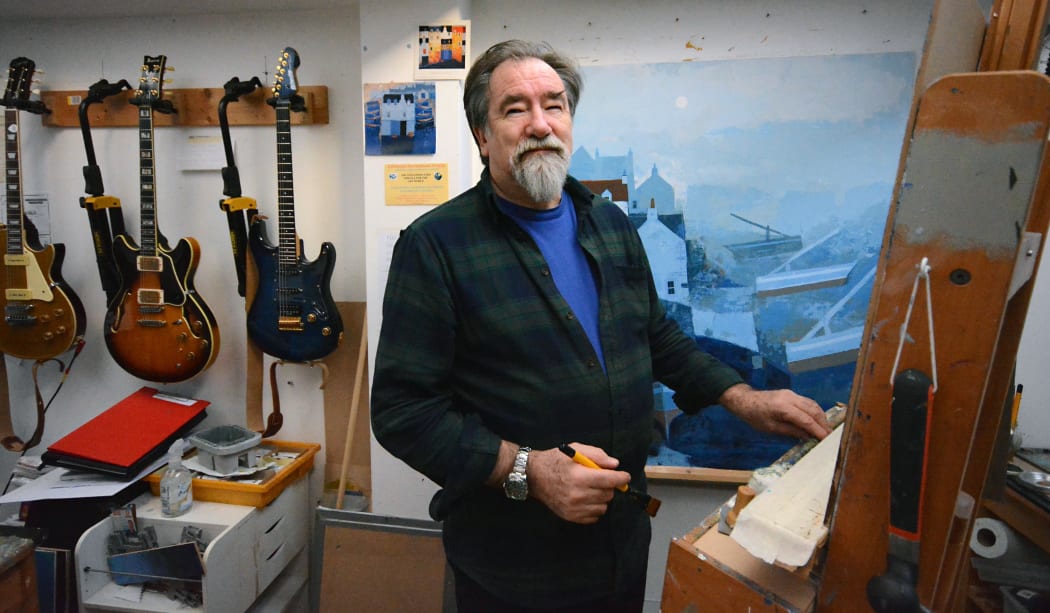 Have you always known that you wanted to become an artist?
I did a lot of drawing as a child. So when it came to secondary school and making a choice between art, science and music…the music teacher was a monster. The science teacher was a monster. So I did art.
What route did you take to reach that destination?
From school I went on to the Glasgow School of Art
Which artists influenced you along the way?
I was very much influenced by Glasgow artists, Scottish artists, Scottish colourists especially. But also contemporary artists. My art teacher was William Birnie, a practicing artist and a member of the Glasgow Group. I became familiar with lots of those artists and that influenced me.
What do you love most about being an artist?
The ability to get up in the morning and not dread going to work.
What's the biggest challenge?
Cashflow!
Tell us about your studio. What do you like about it most? And is there anything you'd like to change?
My studio is a converted garage with four two metre x one metre roof light windows that give me lots of light. It's always nice and airy and spacious. It's like working in a fish tank. It was designed to my specification so I'm pretty happy with it. The one thing I'd like to change about it is that it's very cluttered.
What are the key themes in your work?
Architecture, castles, mills, Scottish villages, fishing villages, boats, that sort of thing.
Who or what inspires you?
The type of places that feature Scottish vernacular architecture. I don't work on the spot and I don't work from photographs. I try to remember or invent the images.
How is your work affected by living in eastern Scotland
?
Living in Eastern Scotland is a big inspiration. I like the climate here better than the West. Being Glaswegian I was used to rain and misery. It's a much nicer climate on the East and that feeds into the work.
How would you describe your painting style and technique?
My painting style and technique is very much non-linear perspective. Instead I use overlaps, or if you like aerial perspectives.
What media do you use and why?
I use oil paint exclusively these days because it's beautiful! It's a beautiful medium to work with.
What equipment could you not do without?
I couldn't work without my palette knives and my modified brushes and my modified credit cards. I scape the paint around like a squeegee.
What
colour
could you not do without
?
Prussian Blue.
What is the starting point for your paintings?
The starting point for paintings is always just blocking in shapes, colours and tones. There's very very little detail until the painting's at least two thirds of the way through and I've built up a couple of layers of paint at least.
Do you know what you're going to paint before you face a blank canvas?
Yeah, I kinda know what I'm going to do before I face a blank canvas.
How do you know when a painting is finished?
(Chuckle) When you can abandon it with dignity!
What's your favourite gallery (or place to see/experience
art)?
Gallery Heinzel of course! And also the Rijksmuseum in Amsterdam.
If you could collaborate with one artist, from any time, who would it be and why?
Well that's an easy one! Rembrandt Van Rijn. The greatest artist who ever lived. He painted the human condition. He painted faces where instead of it being a superficial mask that was a good likeness of the person, he gave you a window into their soul. I adore Rembrandt.